ExpressThermo has add-on modules that expand the base functionality of the application and that you can purchase as a complement of your adapter's activation.
You can see this information in the Module Manager from the Main Menu.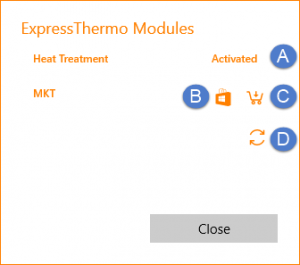 If you have purchased a module, it will have an indication of 'Activated'(A).
If the module is still available for purchase, you can do so through Windows Store (B) or through a purchase order (C).
Please note that you will need an Internet connection to perform this operation.
Windows Store » Activate the module using the payment method associated with your Microsoft account.
The activation is performed immediately.
Purchase Order » Business users can send us a purchase order. Please include company data and contact person. You will receive a quote with payment instructions.
Activation will be effective upon payment confirmation.
Then you must update the information through the 'Refresh' button (D).